Temperature Controllers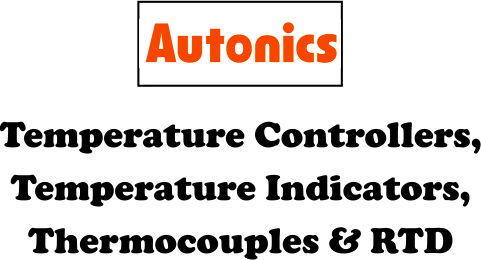 A

DIGITAL TEMPERATURE CONTROLLERS:

I.
DIGITAL TEMPERATURE CONTROLLERSSize: 48 x 48mm
MODEL:
Digital Setting & Indication T3S
ON/OFF, Relay Output
1
Suitable for type: "K" Thermocouples
Ranges : 0 to 3990C
2
Suitable for: Pt100 ohms sensing
Ranges : 0 - 3990C
AUTONICS/MENICS Sockets
1
Screw Terminal, Back Connection : Type : PG-08
Suitable for T3S, TOS and other 8-Pin products
2
Screw Terminal, Front Connection : Type : PS-08
Suitable for T3S, TOS, PM4H timers and
other 8-Pin products
3
Screw Terminal, Front Connection : Type : PS-11
Suitable for PM4HA, E444N, E448N and
other 11-Pin products
II
Microprocessor based Digital Auto Tuning Dual PID Temperature Controller
TZ4 & TZ4N Series
Standard Features:
4-Digits Double Display for Setting & Indication
Dual PID Auto Tuning
Free Power Supply Voltage: 100 to 240VAC/DC
Multi-Input type: Selectable 15 input modes
Output types: Relay, SSR or Current
One Alarm Output standard in all controllers
Memory Retention of Settings
Indication Accuracy: ± 0.3%
Most ranges settable to 0C/0F
Measuring Ranges (Input): Settable from front
I
Thermocouples:
Type
Min. & Max. Range
K (CA) H
-100
to
13000C
K (CA) L
-100
to
999.90C
J (IC) H
0
to
8000C
Type
Min. & Max. Range
J
(IC) L
0
to
800.00C
R
(PR)
0
to
17000C
E
(CR) H
0
to
8000C
E
(CR) L
0
to
800.00C
T
(CC) H
-200
to
4000C
T
(CC) L
-199.9
to
400.00C
S
(PR)
0
to
17000C
N
(NN)
0
to
13000C
W
(TT)
0
to
23000C
II.
RTD
J Pt H
0
to
5000C
J Pt L
-199.9
to
199.90C
D Pt H
0
to
5000C
D Pt L
-199.9
to
199.90C
III.
Process Input (Analog)
4 to 20mADC
-1999
to
9999
1 to 5VDC
-1999
to
9999
0 to 10VDC
-1999
to
9999
TZ4 Series
A)
Model: TZ4L-14R (Size 96 x 96mm)
Control Output:
Relay Type, 1C Contact
Control Output Mode:
ON/OFF & PID (Manual or Auto Tuning)
Alarm Output (Event1):
Relay 1A Contact
B)
Model: TZ4L-14S (Size 96 x 96mm)
Control Output:
SSR (12VDC ± 3V 30mA Manual)
Control Output Mode:
ON/OFF & PID (Manual or Auto Tuning)
Alarm Output (Event1):
Relay 1A Contact
C)
Model: TZ4L-24R (Size 96 x 96mm)
Control Output:
Relay Type, 1C Contact
Control Output Mode:
ON/OFF & PID (Manual or Auto Tuning)
Alarm Outputs(Event1 + Event2):
Contacts: Relay 1A + Relay 1A
D)
Model: TZ4L-A4R (Size 96 x 96mm)
With Retransmission Output 4-20m ADC
Control Output:
Relay Type, 1C Contact
Control Output Mode:
ON/OFF & PID (Manual or Auto Tuning)
Alarm Outputs(Event1 + Event2):
Contacts: Relay 1A + Relay 1A
E)
Model: TZ4L-14C (Size 96 x 96mm)
Control Output:
Current Output 4-20mADC
Control Output Mode:
PID
Alarm Output (Event1):
Relay 1A Contact
F)
Model: TZ4M-14R (Size 72 x 72mm)
Control Output:
Relay Type, 1C Contact
Control Output Mode:
ON/OFF & PID (Manual or Auto Tuning)
Alarm Output (Event1):
Relay 1A Contact
G)
Model: TZ4M-14S (Size 72 x 72mm)
Control Output:
SSR. (12VDC ± 3V 30mA Manual)
Control Output Mode: Alarm Output (Event1):
ON/OFF & PID (Manual or Auto Tuning) Relay 1A Contact
H)
Model: TZ4M-A4R (Size 72 x 72mm)
with Retransmission Output 4-20m ADC.
Control Output:
Relay Type, 1C Contact
Control Output Mode:
ON/OFF & PID (Manual or Auto Tuning)
Alarm Output (Event1+Event2):
Contacts: Relay 1A+Relay 1A
I)
Model: TZ4ST-14R (Size 48 x 48mm)
Control Output: Control Output Mode:
Relay Type, 1C Contact
Control Output Mode:
ON/OFF & PID (Manual or Auto Tuning)
Alarm Output (Event1):
Relay 1A Contact
J)
Model: TZ4H-14R (Size 48 x 96mm)
Control Output:
Relay Type 1C Contact
Control Output Mode:
ON/OFF & PID (Manual or Auto Tuning)
Alarm Output (Event1):
Relay 1A Contact
TZ4N Series
A)
Model: TZN4L-14R (Size 96 x 96mm)
Control Output:
Relay Type, 1C Contact
Control Output Mode:
ON/OFF & PID (Manual or Auto Tuning)
Alarm Output (Event1):
Relay 1A Contact
B)
Model: TZN4M-14R (Size 72 x 72mm)
Control Output:
Relay Type, 1C Contact
Control Output Mode:
ON/OFF & PID (Manual or Auto Tuning)
Alarm Output (Event1):
Relay 1A Contact
C)
Model: TZN4M-14S (Size 72 x 72mm)
Control Output:
SSR
Control Output Mode:
ON/OFF & PID (Manual or Auto Tuning)
Alarm Output (Event1):
Relay 1A Contact
D)
Model: TZN4S-14R (Size 48 x 48mm)
Control Output:
Relay Type, 1C Contact
Control Output Mode:
ON/OFF & PID (Manual or Auto Tuning)
Alarm Output (Event1):
Relay 1A Contact
E)
Model: TZN4L-T4R (Size 96 x 96mm)
With RS485 Communication Output
Control Output:
Relay Type, 1C Contact
Control Output Mode:
ON/OFF & PID (Manual or Auto Tuning)
Alarm Outputs(Event1):
Contacts: Relay 1A + Relay 1A
F)
Model: TZN4S-14C (Size 48 x 48mm)
Control Output:
Current Output (4-20mADC)
Control Output Mode:
PID
Alarm Output (Event1):
Relay 1A Contact
G)
Model: TZN4W-14R (Size 96 x 48mm)
Control Output:
Relay Type, 1C Contact
Control Output Mode:
ON/OFF & PID (Manual or Auto Tuning)
Alarm Output (Event1):
Relay 1A Contact
III.
Microprocessor based Digital Auto Tuning PID Temperature Controller
TK4 Series
Standard Features:
*
4-Digits Double Display for Setting & Indication
*
PID Auto Tuning
*
Power Supply Voltage: 100 to 240VAC
*
Multi-Input type: Selectable 21 input modes
*
Output types: Relay, SSR and Current Drive output
*
One Alarm Output standard in all Controllers
*
Indication Accuracy: ±0.3%
*
Super High Speed Sampling: 50ms
*
All Ranges Selectable to oC/oF
*
Memory Retention of Settings
*
Dramatically increased visibility using wide display part and high luminance LED
*
Mounting space saving with compact design - downsized by approx. 38% (60mm) in depth
Measuring Ranges (Input): Settable from front
I.
Thermocouples:
TypeMin &
Max. Range
K (CA) H
-200 to 1350oC
K (CA) L
-199.9 to 999.9oC
J (IC) H
-200 to 800oC
J (IC) L
-199.9 to 800.0oC
E (CR) H
-200 to 800oC
E (CR) L
-199.9 to 800.0oC
T (CC) H
-200 to 400oC
T (CC) L
-199.9 to 400.0oC
B (PR)
0 to 1800oC
R (PR)
0 to 1750oC
S (PR)
0 to 1750oC
N (NN)
-200 to 1300oC
C (TT)
0 to 2300oC
G (TT)
0 to 2300oC
L (IC) H
-200 to 900oC
L (IC) L
-199.9 to 900.0oC
U (CC) H
-200 to 400oC
U (CC) L
-199.9 to 400.0oC
PL II
0 to 1390oC
II.
RTD
TypeMin &
Max. Range
U (CC) L
-199.9 to 400.0oC
Cu 5
-199.9 to 200.0oC
Cu 10
-199.9 to 200.0oC
J PT H
-200 to 650oC
J PT L
-199.9 to 650.0oC
D PT 5
-199.9 to 600.0oC
D PT H
-200 to 650oC
D PT L
-199.9 to 650.0oC
Ni 12
-80 to 200oC
III.
Process Input (Analog)
Current
0 to 20mA
-1999 to 9999
4 to 20mA
-1999 to 9999
Voltage
0 to 10V
-1999 to 9999
0 to 5V
-1999 to 9999
1 to 5V
-1990 to 9999
0 to 100mV
-1999 to 9999
TK4 Series
A)
Model: TK4L–14RR (Size 96 x 96mm)
Dual Relay Control Outputs + Alarm Output


Control Output1:
Relay Type, 1A Contact
Control Output2:
Relay Type, 1A Contact
Control Output Mode:
ON/OFF & P, PI, PD, PID (Manual or Auto Tuning)
Alarm Output (AL1):
Relay 1A Contact
B)
Model: TK4L–T4CR (Size 96 x 96mm)
Triple Control Outputs + Communication Output + Alarm Output
Control Output1:
Relay Type, 1A contact
Control Output2:
SSR Drive Output + Current Drive
Output Control Output Mode:
ON/OFF & P, PI, PID, PID (Manual or Auto Tuning)
Alarm Output (AL1):
Relay 1A Contact
Communication Output:
RS485 Communication Output
C)
Model: TK4M–14RR (Size 72 x 72mm)
Dual Relay Control Outputs + Alarm Output


Control Output1:
Relay Type, 1A contact
Control Output2:
Relay Type, 1A contact
Control Output Mode:
ON/OFF & P, PI, PID, PID (Manual or Auto Tuning)
Alarm Output (AL1):
Relay 1A Contact
D)
Model: TK4S–14RR (Size 48 x 48mm)
Dual Relay Control Outputs + Alarm Output
Control Output1:
Relay Type, 1A contact
Control Output2:
Relay Type, 1A contact
Control Output Mode:
ON/OFF & P, PI, PID, PID (Manual or Auto Tuning)
Alarm Output (AL1):
Relay 1A Contact
IV.
Microprocessor based Digital Auto Tuning PID Temperature Controller
TC4 Series
Standard Features:
4-Digits Display for Setting & Indication
PID Auto Tuning
Power Supply Voltage: 100 to 240VAC 50/60HZ
Multi-Input type: Selectable 4 input modes
Output type: Combined Relay + SSR output
Both phase control & cycle control available as standard for SSR output
One Alarm Output standard in all controllers
Indication Accuracy: 0.5%
High Speed Sampling: 100ms
All ranges settable to 0C/0F
Memory Retention of Settings
Measuring Ranges (Input): Settable from front
II.
Thermocouples:
Type
Min. & Max. Range
K (CA)
-50
to
12000C
- J (IC)
30
to
5000C
II.
RTD
D Pt 1
-100
to
4000C
D Pt 2
-100
to
4000C
TC4 Series
A)
Model: TC4L-14R (Size 96 x 96mm)
Control Outputs:
Relay Type, 1A Contact + SSR 12VDC 20mA
Control Output Mode:
ON/OFF & PID (Manual or Auto Tuning)
Alarm Output (AL1):
Relay 1A Contact
B)
Model: TC4M-14R (Size 72 x 72mm)
Control Outputs:
Relay Type, 1A Contact + SSR 12VDC 20mA
Control Output Mode:
ON/OFF & PID (Manual or Auto Tuning)
Alarm Output (AL1):
Relay 1A Contact
C)
Model: TC4S-14R (Size 48 x 48mm)
Control Outputs:
Relay Type, 1A Contact + SSR 12VDC 20mA
Control Output Mode:
ON/OFF & PID (Manual or Auto Tuning)
Alarm Output (AL1):
Relay 1A Contact
D)
Model: TC4H-14R (Size 48 x 96mm)
Control Outputs:
Relay Type 1A Contact + SSR 12VDC 20mA
Control Output Mode:
ON/OFF & PID (Manual or Auto Tuning)
Alarm Output (AL1):
Relay 1A Contact
V.
Digital Switch PID Temperature Controller
TD4 Series
Standard Features:
4-Digits Display for Setting & Indication
PID Auto Tuning
Power Supply Voltage: 100 to 240VAC 50/60HZ
Output type: Combined Relay + SSR output (TD4L/TD4LP/TD4H)
One Alarm Output standard in all controllers (except TD4SP-N4R)
High Control Accuracy: 0.5%
High Speed Sampling: 100ms
All ranges settable to 0C/0F
Memory Retention of Digital Switch Settings
Dramatically increased visibility using wide display part and high luminance LED
Mounting space saving with compact design
downsized by approx. 38%(60mm) in depth compared to existing models
Measuring Ranges (Input): Settable from front
III.
Thermocouples:
Type
Min. & Max. Range
K
(CA)
-50
to
12000C
J
(IC)
-30
to
5000C
II.
RTD :
D Pt 1
-100
to
4000C
TD4 Series
A)
Model: TD4L-14R (Size 96 x 96mm)
Control Outputs:
Relay Type, 1A Contact + SSR 24VDC 20mA
Control Output Mode:
ON/OFF and P, PI, PD, PID (Manual or Auto Tuning)
Alarm Output (AL1):
Relay 1A Contact
B)
Model: TD4M-14R (Size 72 x 72mm)
Control Outputs:
Relay Type, 1A Contact
Control Output Mode:
ON/OFF and P, PI, PD, PID (Manual or Auto Tuning)
Alarm Output (AL1):
Relay 1A Contact
C)
Model: TD4SP-N4R (Size 48 x 48mm)
Control Outputs:
Relay Type, 1A Contact
Control Output Mode:
ON/OFF and P, PI, PD, PID (Manual or Auto Tuning)
Plug-in type 8-Pin
D)
Model: TD4LP-14R (Size 96 x 96mm)
Control Outputs:
Relay Type 1A Contact + SSR 24VDC 20mA
Control Output Mode:
ON/OFF & PID (Manual or Auto Tuning)
Alarm Output (AL1):
Relay 1A Contact
Alarm setting by Digital Switch
E)
Model: TD4H-14R (Size 48 x 96mm)
Control Outputs:
Relay Type, 1A Contact + SSR 24VDC 20mA
Control Output Mode:
ON/OFF and P, PI, PD, PID (Manual or Auto Tuning)
Alarm Output (AL1):
Relay 1A Contact
B)
DIGITAL TEMPERATURE INDICATORS
I.
DIGITAL TEMPERATURE INDICATORS
A)
Model: T4WI Size: 96 x 48mm
Range:
0 - 1200˚C Sensing: K-type
Power Supply:
AC110/220VAC
B)
Model: T4WI Size: 96 x 48mm
Range:
0 - 400˚C Sensing: Pt100 ohms
Power Supply:
110/220VAC
II.
DIGITAL TEMPERATURE INDICATORS (5-Input type):
A)
Model: T4WM with selector
Input Sensor :
K (CA) , 5 - Inputs
Range :
0 ~ 12000C
Display method :
3½ Digits 7 Segment LED
Indicating accuracy :
F.S. ± 0.5% rdg ± 1 digit
Size :
96 x 48 x 112 mm
Power Supply :
110/220VAC
B)
Model: T4WM with selector


Input Sensor :
Pt 100 ohms
Range :
0 ~ 4000C
Display method :
3½ Digits 7 Segment LED
Indicating accuracy :
F.S. ± 0.5% rdg ± 1 digit
Size :
96 x 48 x 112 mm
Power Supply :
110/220VAC
FEATURES:
Auto/Manual Mode Selection
Process Temperature Value for each input can be automatically indicated
periodically (01 ~ 10 Sec adjustable)
LED Indication for Auto mode and sensor position.
THERMOCOUPLES/RTD
K(CA) TYPE THERMOCOUPLES:
1
STUD TYPE
Length of extension wire: 2.5M
Extension wire insulation: glass/steel braid
2
CARTRIDGE TYPE
Sensor Length : 65mm, Sensor Dia: 3.2mm
Length of extension wire: 2.5M
Extension wire insulation: glass/steel braid
3
HEAD TYPE Thin Sensor,
Sensor Length : 250mm (10"), Dia: 6mm
Or 150mm (6") Dia: 4.8mm
4
HEAD TYPE Thin Sensor
Sensor Length :
500mm (20"), Dia: 4.8mm
Pt100 OHMS SENSORS:
1
CARTRIDGE TYPE
Sensor Length : 65mm, Sensor Dia: 4.8mm
Length of extension wire: 1.5M
2
HEAD TYPE Thin Sensor,
Sensor Length : 500mm (20"), Dia: 4.8mm
TEMPERATURE/HUMIDITY TRANSDUCER
THD Series
A)
Type: THD-R-C
Specifications:
·
Power Supply:
24VDC ± 10%
·
Measuring Input:
Temperature, Humidity (Build-in sensor)
·
Power consumption:
Max 2.4W
·
Output :
Temperature: DC 4 to 20mA
Humidity: DC 4 to 20mA
·
Measuring Range:
-19.9 ~ 600C
0 ~ 99.9%RH
·
Sampling time:
0.5 sec
B)
Type: THD-R-T (Room Type)
Specifications:
·
Power Supply:
24VDC ± 10%
·
Measuring Input:
Temperature, Humidity (Build-in sensor)
·
Power consumption:
Max 2.4W
Output :
RS485 Communication Output (Modbus RTU)
·
at temperature & Humidity
Measuring Range:
-19.9 ~ 600C
0 ~ 99.9%RH
·
Sampling time:
0.5 sec
C)
Type: THD-R-V (Room Type)
Specifications:
·
Power Supply:
24VDC ± 10%
·
Measuring Input:
Temperature, Humidity (Build-in sensor)
·
Power consumption: Max 2.4W
·
Output :
Temperature
(1-5VDC)
Humidity
(1-5VDC)
Measuring Range:
-19.9 ~ 600C
0 ~ 99.9%RH
·
Sampling time: 0.5 sec
E)
POWER CONTROLLERS


Power Controllers 35Amps Type: SPC1-35
Specifications:
·
Power Supply:
220VAC ± 10%
·
Max. Rated Current:
35A Single Phase
·
Control Input:
1 to 5VDC, 4 to 20mA (250 ohms), ON/OFF (External)
External VR (1K ohms) or output Limit input (Inner VR)
·
Control Type:
Selectable: Phase Control, Cycle Control, Zero Cross ON/OFF
·
Movement:
SoftStart
·
Output Indication:
By LED
·
Can also be used for heater control with SSR output temperature controller
CONVERTER RS232C/RS485
A)
Model: SCM-38ISerial Converter (RS232C ↔ RS485)
Power Supply:
12-24VDC
Communication Speed: 1200 ~ 115200 bps
Built-in Surge Protection Circuit
B)
Model: SCM-US48I Serial Converter Module (USB ↔ Serial)
Power Supply:
5VDC USB bus power
Communication Speed:
1200 ~ 115200 bps
G)
GRAPHIC PANEL
Model:
GP-2480-SBD0 / GP-S044-S1D0
LCD Color :
Mono (Blue, White)
Resolution:
240 x 80 dots
Display size:
112.8mm x 37.6mm
NOTE:
This list is subject to change without notice and goods being in stock. The prices in the list are reference
prices and not sale prices. Discounts/Multipliers are applicable. The delivery, packing and
forwarding charges are extra. All despatches are made on buyer's risk and account.